WeChat and Alipay will pay a two-dimensional code, now the central bank officials admit that the payment of the two-dimensional code UnionPay is also poised to launch position, the payment of the two-dimensional code, two-dimensional code has a fiery hair get out of hand, in addition to the field of payment, the current concern is paid in the field of traffic.
"Code" era, gradually become the payment of the two-dimensional code not part of the loss, we live in WeChat, Alipay and other three party payment platform is the most familiar mobile payment, WeChat wallet, Alipay balance, UnionPay flash pay and cloud type payment function slowly into the bus the field, breaking the previous traditional travel credit card payment, and in the development strategy of the country continue to build a city group, is bound to speed up the pace of the wisdom of the city, the State Department of transportation issued a draft of "technical specifications" card two-dimensional code to pay the bus, so it not only in the country to accelerate the bus toll and the pace of the two-dimensional quality code payment in the field of technology and equipment for continuous improvement in the standard of.
Manufacturers cardlan production of two-dimensional code in a handful of domestic in Shenzhen speed cloud IOT Technology Co., through technical research, will be for a long time, the payment of the two-dimensional code has been considered not suitable for use in high speed and frequency of trading scene (traffic payment). With the development of technology innovation, two-dimensional code products, people scan code payment habits, the payment of the two-dimensional code into the field of public transportation bus vehicle which speed cloud two-dimensional code card machine is to experience a sense of the bus card machine is the best.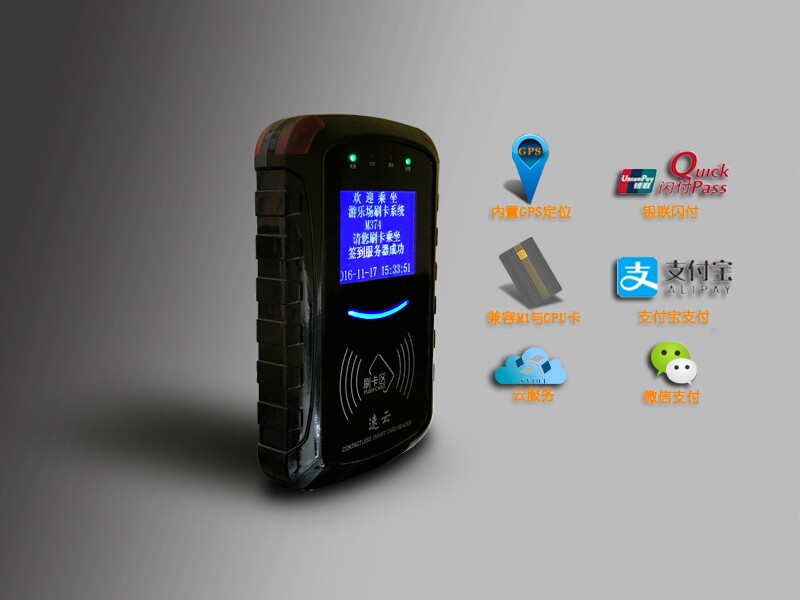 速云公交二维码车载刷卡机的功能参数:
(1)可设定乘车卡类、时段、票价,按照不同单价收费
(2)数据容量:脱机时储存24万条明细数据,数据满了自动覆盖之前数据
(3)数据采集:U盘采集,CDMA,GPRS无线采集,wifi
(4)语音提示: 真人语音播报
(5)GPS:内置GPS自动定位,语音播报站点,语音广告插播。
当然功能不仅仅是以上提到的,再看设备规格采用200x140x40mm设计符合现在化的设计,不仅仅能快速扫码支付还能给公交增添不少的新鲜感,而屏幕分辨率是320*480液晶彩屏, LCD液晶显示。在显示屏上采取工业级别的设计,不论是从视觉上还是用户的体验感上都是非常好的。不仅仅是外观上速云制造的二维码公交刷卡机安装起来非常方便,7V-41V宽电压不分正负极,经过了电压稳压处理,直接接公车电频上,在国内不同地域温度不同的情况下能适应-45℃-85℃宽温型。从制造工艺方面,依然坚持工匠精神——极致的态度产品精雕细琢,精益求精、追求更完美的精神理念。
二维码支付时代,给城市一卡通行业带来了新的机遇和挑战,新颖的产品,必然有相关企业的迅猛发展,同时也会给原有的传统产品强而有力冲击,一直致力于城市一卡通发展事业的深圳速云物联科技有限公司,多年来为城市一卡通运营企业提供终端设备和软硬件解决方案。创新是企业发展的关键,想用户之所想、急用户之所急,是我们售后服务的宗旨,为保障用户的利益。速云物联结合时代需求,在不断进行创新设计理念下,技术团队自主研发公交车载二维码支付终端,原有支持市民卡、城市通卡、公交卡、金融IC卡、手机NFC卡、交通部互联互通卡和住建部互联互通卡的基础上,增加手机二维码扫码支付功能,为市民乘车出行提供了更多的选择,促进了交通领域"全支付"的发展。
速云二维码公交车载刷卡机——体验感最好的公交车载刷卡机。
初心不变,精雕细琢,不轻易说完美,这是速云也是传承。